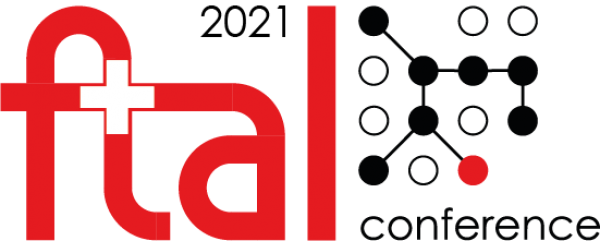 SUSTAINABLE SMART CITIES & REGIONS - 28.-29.10.21 - Lugano
The event will take place in Lugano on 28-29th October 2021
Hosted by SUPSI – University of Applied Sciences and Arts of Southern Switzerland
Please find below the Call for Paper.
We are looking forward to your submissions and to the FTAL Conference 2021!
Link for submission
Deadline: 16th May 2021
Submission process:
• All contributions must be in IEEE conference format and must be submitted in electronic
form (PDF) on EasyChair. A link to the standard IEEE conference templates (MS Word or
LaTeX) are available on the conference website.
• Authors may submit regular papers for oral presentation or work in progress for poster
presentation (4 pages). Authors of selected papers could be asked for an extension to 6
pages to be published in the conference proceedings.
• All contributions will be peer-reviewed. Authors of regular papers that are not selected for
oral presentation may be invited to present their contribution as a poster presentation.
• At least one of the authors must register and attend the conference to present the work.
Topics
Within the realm of smart cities and regions, topics of interest include but are not limited to:
Mobility and transportation
Energy systems and smart grid
Water management technologies
Waste management technologies
Lighting technologies
Sustainable food supply chains
Smart buildings and infrastructure
Architecture
Nature based solutions
Future Work Environments
Cyber-security
Internet of Things (IoT) and wireless sensor networks
Technologies for the health & well-being of residents
Interoperability of heterogeneous systems
Smart data analytics
Management and control platforms
City and Science
Urban Facility Management
Social aspects of Smart Cities
Sustainable built environment
Building Information Management and facility management
Program Committee Conference 2021
BFH – Stefan Groesser, stefan.groesser@bfh.ch
OST – Lukas Schmid, lukas.schmid@ost.ch
FHNW – Achim Geissler, achim.geissler@fhnw.ch
HES-SO – Elena Mugellini, elena.mugellini@hefr.ch
HSLU – Antonios Papaemmanouil, antonios.papaemmanouil@hslu.ch
HSLU – Eckart Zitzler, eckart.zitzler@hslu.ch
OST – Susanne Kytzia, susanne.kytzia@hsr.ch
SUPSI – Daniele Puccinelli, daniele.puccinelli@supsi.ch
ZHAW – Ranka Junge, jura@zhaw.ch
ZHAW – Antje Junghans, juna@zhaw.ch
FHGR – Simonne Bosiers, Simonne.Bosiers@fhgr.ch
Steering Committee Conference 2021
Emanuele Carpanzano (SUPSI), Chair
Oya Atalay Franck (ZHAW)
Olivier Naef (HESSO)
Viktor Sigrist (HSLU)
Falko Schlottig (FHNW)