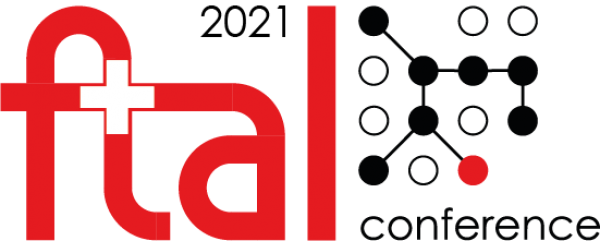 SUSTAINABLE SMART CITIES & REGIONS - 28.-29.10.21 - Lugano
28 ottobre 2021 – 29 ottobre 2021
Campus Est, Lugano-Viganello
Hosted by the Department of Innovative Technologies (DTI) of the University of Applied Sciences and Arts of Southern Switzerland (SUPSI).
The conference
In recent years, the concept of smart cities has been widespread and cities are increasingly taking initiatives to apply disruptive technologies and other solutions to transform their infrastructure, services, or administrations. Recently the Covid-19 pandemic situation has challenged current organization of Smart Cities and Regions. At the same time, Covid-19 pandemic is speeding up the design and development of novel approaches and technologies to build more resilient, inclusive and sustainable cities.
The FTAL 2021 conference will showcase the applied research and technology transfer activities on smart cities carried out by Switzerland's Universities of Applied Sciences jointly with their partners in industry and academia. All forms of relevant research are welcome, including conceptual, theoretical, quantitative, qualitative, and mixed-method studies. Papers with an interdisciplinary nature are welcome.
To foster collaboration in applied research and technology transfer, the FTAL 2021 conference aims to provide networking opportunities to researchers and practitioners as well as to advanced students. Students and junior researchers who are active in applied research and development in academia and/or industry are welcome to contribute
Topics
Within the realm of smart cities and regions, topics of interest include but are not limited to:
Mobility and transportation
Energy systems and smart grid
Water management technologies
Waste management technologies
Lighting technologies
Sustainable food supply chains
Smart buildings and infrastructure
Architecture
Nature based solutions
Future Work Environments
Cyber-security
Internet of Things (IoT) and wireless sensor networks
Technologies for the health & well-being of residents
Interoperability of heterogeneous systems
Smart data analytics
Management and control platforms
City and Science
Urban Facility Management
Social aspects of Smart Cities
Sustainable built environment
Building Information Management and facility management
Program Committee Conference 2021
BFH – Stefan Groesser, stefan.groesser@bfh.ch
OST – Lukas Schmid, lukas.schmid@ost.ch
FHNW – Achim Geissler, achim.geissler@fhnw.ch
HES-SO – Elena Mugellini, elena.mugellini@hefr.ch
HSLU – Antonios Papaemmanouil, antonios.papaemmanouil@hslu.ch
HSLU – Eckart Zitzler, eckart.zitzler@hslu.ch
OST – Susanne Kytzia, susanne.kytzia@hsr.ch
SUPSI – Daniele Puccinelli, daniele.puccinelli@supsi.ch
ZHAW – Ranka Junge, jura@zhaw.ch
ZHAW – Antje Junghans, juna@zhaw.ch
FHGR – Simonne Bosiers, Simonne.Bosiers@fhgr.ch
Steering Committee Conference 2021
Emanuele Carpanzano (SUPSI), Chair
Oya Atalay Franck (ZHAW)
Olivier Naef (HESSO)
Viktor Sigrist (HSLU)
Falko Schlottig (FHNW)